2017 Spring Trends and Updates for your Little One's Wardrobe
2017 Spring Trends and Updates for your Little One's Wardrobe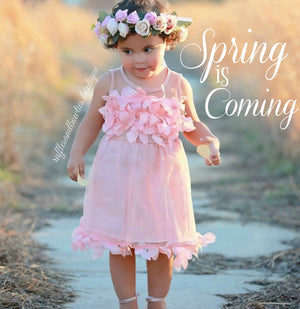 Spring is in the air and it's about that awesome time in the year where you can start to put away those cumbersome winter jackets and break out the clothes for warmer weather. If you are looking to update your little one's wardrobe there are some 2017 spring essentials and trends you definitely want to include. It's the season to show off your child's personality and get the key items that not only you will love but your little one will love wearing too.
The Woodland trend is one trend that is not going away any time soon. And it makes for a most magical ensemble! Remember that it's not about animal prints such as leopard or zebra that you want to incorporate but focusing on adding fun accents, such as fox ears or woodland animal leggings. Stick to animals that you would find in a forest: squirrels, foxes and owls. Check out our adorable Fox tutu dress or add on our must-have Fox coin purse.
A retro touch is a must have for your little one's spring wardrobe this season. It's all about vintage America and incorporating some awesome pieces that remind us of a simpler time. Think of drinking milkshakes at the local diner and listening to juke box tunes. To do this, add some dark tailored denim to your child's wardrobe. For the perfect retro accessory, take a look at our Pink Vintage sunglasses. They are perfectly tinted pink frames that can go with any ensemble. Add our Spencer Dusty Rose Floral and Pearl Sweater for that perfect touch of Sandra Dee inspiration. Be sure to check out our Born to Pose Vintage Camera Floral shirt. This shirt is a perfect mix of spring florals incorporated on top of a retro camera icon.
Add some beautiful warm spring floral prints to really usher in the spring. They are a beautiful way to embrace the season of picnics in the garden. Spring floral prints are the perfect fashion choice to wear when searching for fairies and finding adventure in the new spring weather. You can embrace this trend by adding floral prints to must have items in your spring wardrobes. Add our perfect floral rose Adelaide Vintage floral Boho shorts with a cute accented white bow. Or check out our Vintage Rose Romper.