Vintage Rose Painting the Streets - Fall Trends 2017
Vintage Rose Painting the Streets - Fall Trends 2017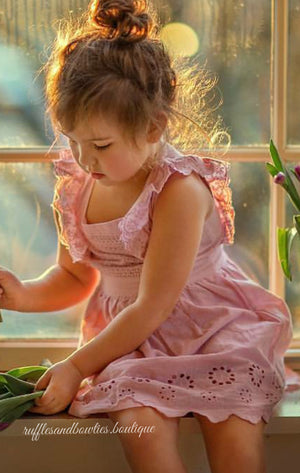 Step inside this enchanting collection brimming with old-Parisian charm. Layered lace dresses, adorned pearl accents, bigger bows, lace bedecked denim and classic couture designs create a High Fashion Vintage vision with the perfect pieces for your little ones fall wardrobe. 
These Kryssi Kouture exclusive pieces are everything we are about this season - Lace, Pearls, and even bigger bows!

CHECK OUT THE FALL TRENDS BELOW FEATURING OUR VINTAGE ROSE COLLECTION


NEW FASHION TREND FIND - LACE AND FLORAL ROSETTE DENIM

How gorgeous are these one of a kind lace and florette denim jeans?
Designed by Kryssi Kouture this original design is available only through Ruffles & Bowties Bowtique. 


CURRENTLY TRENDING - DELICATE LACE & PEARL DETAILS
Soft vintage rose is coloring the streets this fall. Dainty & heirloom like details adorn many of our Kryssi Kouture vintage rose pieces.



These sweet adornments are even available for the littlest of Kryssi Kouture Fans


We are seeing different shades of our new found love Vintage Rose, try these tones of Vintage Rose for a deeper fall like hue 


Soft florals, muted pinks, and pops of gold create the perfect designer ensemble. Dont forget about our Couture designs for both you & your little!