Where In The World Has Ruffles Been? - United Kingdom
Where In The World Has Ruffles Been? - United Kingdom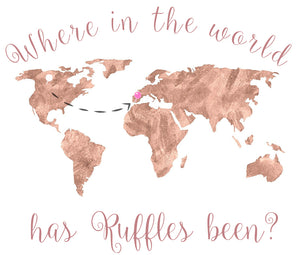 Over 7000 Km's from our home Ruffles base, our next country takes us across the globe! We have been so fortunate to be able to offer international shipping, and for us this means packages are going to places in the world we have never been! This is one way to start that wanderlust bucket list. 
This trip we will be visiting The United Kindgom, also known as the United Kingdom of Great Britain and Northern Ireland. The United Kingdom is surrounded by the Atlantic Ocean, North Sea, English Channel and the Irish Sea. The United Kingdom is the only country in the world with four national football teams. Traditionally here in Canada and the USA we know and call this sport "Soccer".  United Kingdom is known for many of it's cities with one of the most visited known as London. You might know London for it's red double decker buses, Royal Quarters of the Queen, and tower bridge, many of which have been featured in some of America's most watched films. You might even recall a childhood favourite "Harry Potter" all of which was inspired, written and filmed within the personality of London's streets.

Our shipments have traveled all across the United Kingdom from London to Glascow and over to Ireland! Our most traveled Great Britian destinations have been: London, Manchester, Glascow, Woodbridge, Aycliffe,  and Bexhill - on - sea.