Shopping From Home Is The Best!
Shopping From Home Is The Best!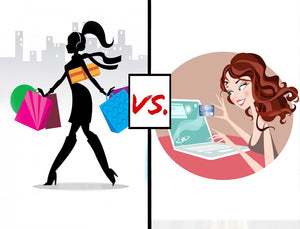 The holidays are just around the corner and the races are about to begin in the stores. Everyone is trying to find that special gift, ready to brace those long shopping lines and hunt for the best ads. We map out the stores we need to hit and which has the best prices. The most overwhelming part about the holidays is the shopping. So why do we do this to ourselves? Especially when there is such a more appealing option called online shopping? Here is a list of reasons why you should stick to your PJS and break out your tablet or computer.
You don't have to get dressed. And really, you don't have to get out of bed either. The best thing about online shopping is that you don't have to put a BRA on. You can do it in the comfort of any place in your home. No need to brave the chilly weather or even brush your teeth. You can get it all done simply at home.
2. You can get your items much sooner than you think. While most don't want to wait weeks until they get their items, we forget that there are some great ways to get the things we online shopped for sooner. With great services like Ruffles & Bowties Bowtique, Amazon Prime, Amazon Prime Now and some stores carry same day pick up. You can avoid the hassle of long checkout lines and easily get your items that you want simply by picking it up or having it delivered that very day. Grocery stores are also headed toward this track. There is nothing more unappealing that grocery shopping with all your little kids. All you need to do is place an order online, drive to the pickup parking space and pop open your trunk for them to put all your items inside.
3. Comparison Shopping. When you online shopping it is so much easier to find different options from different stores with better pricing. You can't do that when you are in the store. Your only selection is what they carry. Their pricing is only what they have. There are stores that do price match, but the hassle of bringing in the ads and searching this out is pretty time consuming. Its much easier to do this with multiple tabs on your computer.
4. You can send your gifts more easily. Spending the holidays out of town? Not sure how you are going to pack all your luggage and a whole lot of gifts? Order your gifts online and have them sent to where you are spending the holidays. Most online stores offer free shipping. Just tell your hosts that your sending packages and not to open them!
We now offer the viigii experience gives that special person a virtual preview of their gift before it arrives. They'll enjoy a sneak peek on their special day as they reveal their gift. And with the real package on its way, the best is still to come!