Where in the world has Ruffles Been? - HAWAII
Where in the world has Ruffles Been? - HAWAII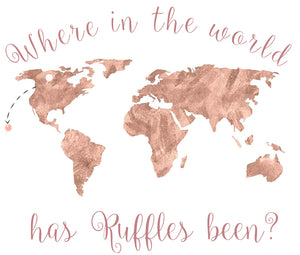 It is so exciting with each and every order that comes in! We love to see where our customers are shopping from all across the globe!
Our latest segment features America's only state that is made up of islands!
Can you guess what Oceania state is up next? 
If you guessed HAWAII - grab your pineapple and lets go hula! 

Located 4999 KM's from our Ruffles & Bowties home base,  Hawaii is the only US State located in the Oceania and made entirely of islands! With 8 different islands Hawaii boasts an array of beautiful sites from sandy beaches and sparkling blue waters to historic lava filled volcanoes, it is a state filled with exciting culture and history.  More than one third of the worlds pineapple supply comes direct from Hawaii, and did you know Hawaii is the only US state to grow coffee beans! 

Our most popular shipping destinations are to these very special Hawaiian locations:

Honolulu, Pearl City, Koloa, Kahului, Wailuku, Waipahu  - Can you guess what Islands they are on?
Our most shipped too island is Oahu!