A Perfectly Vintage Inspired Birthday Party
A Perfectly Vintage Inspired Birthday Party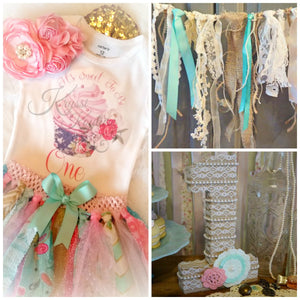 Looking to have a
VINTAGE INSPIRED BIRTHDAY
for your little one?  Here are some fabulous things you must add to your child's day:  Lace, pearls, burlap and vintage floral fabric.  There are so much decorating ideas you can do with these items.  Create fabric strips background for pictures or tie them off on a rope to decorate their high chair.  Pile them in a hurricane glass for centerpieces.  There is so much you can do with these materials! 
Light blues, pinks and peaches.  These are an awesome color combination for that perfect vintage inspired birthday party.  Use pink florals and teal blue plates.  The colors will truly stand out. 
Mason Jars.  These jars are so versatile.  You can use them as glasses, flower vase or even as a candle holder.  After the party, you will be sure to find many uses for mason jars. 
The
PERFECT VINTAGE BIRTHDAY OUTFIT.
  What makes a great vintage inspired birthday is your little ones outfit.  Lace and sparkle is a combination you can never go wrong.  A beautiful large floral headpiece is a great touch for that wonderful Gatsby look.
Check out our Birthday Selections for your little one!!!
#birthdaygirl #vintageinspired #1stbirthday #girlygirl #pinkandteal #birthday #littlefashionista