LITTLE MISS SCIENTIST BIRTHDAY PARTY
LITTLE MISS SCIENTIST BIRTHDAY PARTY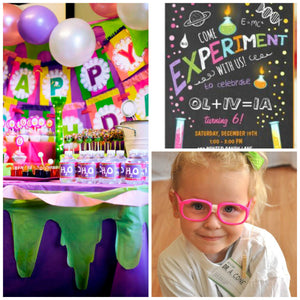 Little Miss Scientist Birthday Party
Looking for a unique birthday theme for your unique little darling? For when a simple princess or pony party just won't do, a Little Miss Scientist is a perfect theme! If you have a little girl who loves science but also loves being girly, this birthday theme is one that she will remember for years to come. Here is all you need to throw the most perfect Little Miss Scientist Theme. 
A tutu goes with everything - If you are wondering how you can dress your little scientist on their birthday while also expressing their little glamour side, anything goes with a tutu! Put a lab coat on with one of our adorable sparkly tutus underneath. You can even bedazzle her safety goggles with rhinestones and glitter!
Experiments made of glitter - There are tons of experiments and their directions on how to execute found on Pinterest, just research "girly experiments". You can find how to make slime that is full of glitter and shiny colors. There is even a cool experiment called Frozen Fizzy ice that is full of glitter and colors showing the reaction of baking soda with vinegar.
Take home treats -  A great idea for a goodie bag is one of the activities can be making your own lip gloss. This is an awesome science experiment that guests can put their own little twist on flavor or color. Then they can take it home!
Science décor -  Don't know how to decorate for a science party? Not to fret! It's easy! All you need are some glass jars or beakers that you can fill with glitter colored water. You can also use balloons or small balls with sticks to duplicate an inspired DNA piece. Make your punch really stand out with dry ice so that fog rolls off of it. Or use the periodic table to spell out "science party."