MINNIE MOUSE PRINCESS BIRTHDAY PARTY
MINNIE MOUSE PRINCESS BIRTHDAY PARTY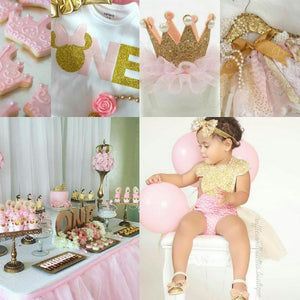 A Minnie Mouse Princess Party is just about the mist adorable birthday theme out there. There is something classic about this beloved character and adding a princess theme just makes it even more picturesque.
RUFFLES & BOWTIES BIRTHDAY BOUTIQUE
So how does one pull of such a delightful theme? It's a lot easier than you may think.
Here are some of our ideas that you can incorporate at your little ones Minnie Princess Party.
1. Pink, Black and Gold - These are the perfect color combinations for that perfect Minnie Princess Party. You can add balloons, table clothes or any other décor. Put pink roses in a small black mason jar with a gold bow to make your party colors really pop.
2. Minnie Mouse Silhouette - A Minnie Mouse silhouette is an absolute must to incorporate in your party. It is a décor staple! And it's pretty easy to make! All you need is two small circles and one big circle. Make sure you add a pink bow on top to designate Minnie Mouse. Make this silhouette as placemats at the table or decorated on goodie bags. You can even use foam spheres to make really cute 3 dimensional Minnie Mouse centerpieces.
3. The perfect Minnie Mouse Outfit - We have so many great outfits for this theme in our Rufflesandbowties.boutique.
Check out our black onesie with a Minnie Mouse silhouette and pair it with our must-have gold ruffle tutu. Your little princess will love wearing our cute Minnie Mouse gold ears! A Flawless look for the perfect photo op on her big day!