Unique & Fun Summer Birthday Themes
Unique & Fun Summer Birthday Themes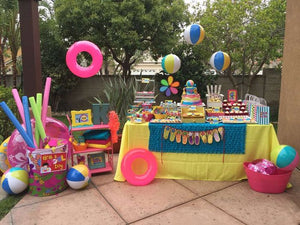 Summer birthdays are a blast to celebrate!  You can celebrate outside and the warm weather gives you a lot more options to choose from.  If you are looking for a unique summer birthday theme that people won't forget, you have come to the right place.  There are so many different and fun summer birthday themes to choose from, but here are some exceptional options:
Mermaid Kitty.  Who doesn't love mermaids and kitties?  When you mash them together, it is even more adorable and cute.  A mermaid kitty party is definitely one that people will remember for a while.  Add cute mermaid elements with kitty ears.  Take a look at our Girls Mermaid Sequin & Tulle Tutu Romper.  This ensemble is perfect for a mermaid theme.  All you need to do is add cat ear headband to complete the look!  Color her nose and add some whiskers for that extra cuteness. 
Water fight! Want to enjoy the warm summer weather but don't have a pool?  A water fight is perfect!  Add a bunch of water balloon stations throughout your backyard, with water guns and refill stations.  Designate areas as "safe zones" so that people who are not playing don't get wet.  This is such a fun and easy party to put together.  All the kids have so much fun and it's a great way to cool off from the summer heat.
3. Pineapple Party. Not only are pineapples delicious, but they are also super cute too.  Who knew a fruit could be such a lively décor piece?  And its perfect theme for a summer birthday party.  With a lush color palette of pink, green and yellow, this is a beautiful color scheme to incorporate into your party décor.  Add pineapples filled with flowers and funny sunglasses as tabletop décor with yellow and green balloons.  You can also give birthday goodie bags in yellow cups with gifts wrapped in green tissue paper.  There are so many ways to include a pineapple element to your birthday party theme
4. Retro Beach Ball Party. A retro touch is always chic and sweet for a party theme.  Add retro beach balls throughout the party.  You can add them on the invitation, small beach balls can be table centerpieces or have large blown up beach balls strewn about your lawn.  For an adorable retro birthday look, you must take a look at our Mabel Pink Retro Onesie with floral shorts.  Don't forget to add our Icy Blue Retro sunglasses to complete the look.  
5. Fairy & Butterfly Theme. Fairy and butterflies are beautiful creatures.  It is a wonderful theme with a fairy tale feel.  Have each guest decorate her own set of wings.  Dress up the décor with moss and wood stumps that have floating butterflies.  The moss and wood will give your party a fun nature storybook feel.  Add secret small doors around your party area so that a magical fairy may turn up.  Looking for the perfect outfit for your little one's big day?  Check out Baby Girls Isabella First Birthday Lace Swing Birthday dress.  This adorable white dress is adorned with a gold script "one" and a hint of magic with her butterfly lace shoulder detail.