Summer Chic Trends for Your Little Trendsetter
Summer Chic Trends for Your Little Trendsetter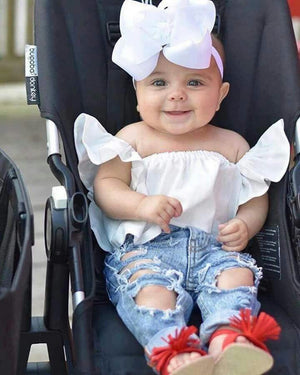 Summer is here and its time to celebrate this wonderful warm weather!  Summer is such a fun season to dress for.  The bright colors and the fun silhouettes, there are so many different styles to choose from.  When choosing ensembles, remember that in this summer weather, kids want clothes that they can run and chase adventure in.  Pick clothing that they can move in easily and remember that accessories can take a simple outfit to the next trendy level.
Stripes.  A classic print is a beautiful stripe.  Simple and chic, this is a trend that is always reoccurring and fun.  For a fun stripe look, take a look at our Kai Stripe Bow Romper.  Absolutely adorable and fun this romper is accented with a large bow on the front. 
Bright Florals. There is something about colorful florals that seem to really represent the summer fun.  Sweet and airy, this print is perfect for the season.  This trend is perfect for a summer picnic or an evening park concert.  Check out our Krissy Kouture Girls Bubblegum Blue Floral Print & Lace Applique Cap Sleeve.  With a beautiful bright blue accented with bright right pink roses, this piece is accented with lace applique on the bodice giving it a vintage feel.
Radiating Rompers. Rompers are so much fun to wear!  Not only are they super cute but they are great for all the running and adventures your little one will be sure to get in.  If you are looking for an adorable romper, check out Sweet Georgia Peach Floral Print Romper.  In an adorable peach soft print, this romper is perfect for your little trendsetter.  She will love this piece and feel like a movie star when you pair it with black sunglasses. 
White Lace.  A bit of lace is perfect for the summer season.  It gives an outfit a delicate and vintage feel.   Light and airy, white lace is a popular trend this season.  You must see our Annalise Vintage Grey Lace Bib Dress. Perfect for chasing garden fairies, this dress is a piece that is classic and timeless.
High Waist Ruffle Top Shorts. If you haven't heard, the biggest trend this season is high waist ruffle top shorts.  While this is also an adult women's fashion trend, it looks even more adorable on your little fashionista.  With a ruffle top and cinched at the waist, this trend is lots of fun.  Be sure to check out our Kryssi Kouture Original Samantha Champagne and Burgundy Girls Vintage Floral Big Bow Shorts.  With a summer floral print, this piece is adorably accented by a white large bow on the back.