Creative Outdoor Photo Shoot Ideas
Creative Outdoor Photo Shoot Ideas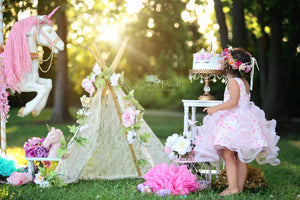 Having an outdoor photo shoot can be absolutely stunning.  The way the light can be captured can really take your portraits to the next level.  The best time to capture really great lightning is either at dusk or at dawn, just when the sun is coming up or down.  It will give your photo a soft magical feel.  While taking photos at the park is nice, you may be looking to do something different.  Here are some unique ideas to make your outdoor photo shoot unique and magical.
Lemonade Stand.  For an adorable look and a rustic feel, a lemonade stand photo shoot is an adorable idea.  Set up a little stand with a 25-cent sign and stray lemons strewn about.  Add some sunflower and baby's breath flowers in a mason jar too.  Don't forget the cups and lemonade glass jug!  This photoshoot will be adorably cute.  Looking for the perfect outfit?  Check out our Sunshine Yellow Seersucker Romper.  This piece will be perfect for the theme.                                                              
Outdoor Bubble Bath.  There is nothing cuter than a baby in a bath.  Having a baby in the bubble bath outdoors makes an adorable photo shoot.  You can use a large white ceramic bowl or a large metal bin. Fill it with lots of bubbles and add some flowers to it.  Have bubble machine running behind it to create a more fun atmosphere.  For a beautiful touch, add our Dusty Rose Floral Head Wreath Baby Halo.
Chalk Art.  Chalk art is a unique way to do photo shoots.  There is a whimsical feel to them.  Have the artist of the family create chalk art that will inspire your little one's imagination.  Draw a bunch of balloons gathered together lifting way in the summer sky and have your child lay on the cement pretending to hold onto the bunch of balloons.  Another idea is drawing a mushroom where your child can pretend to sit on with colored wings on her back reading a book.  The ideas are endless!
Wild One.  A fun and feral photo shoot, have your little one run around in nature with dirty feet and wild hair.  Have her add on a floral crown with a summer dress.   The theme is being wild with nature.  Add a tree tent with a spot where a bunch of arrows and bow can be placed.  Hang feathers on tree branches where the photo shoot will take place. 
Princess in the woods.  For an enchanted photo shoot, dress your little one up in her best princess dress and take pictures of her out in nature.  This will give your photo shoot a fairy tale type of feel.  Add a basket of flowers or even a fake bird that she can hold in the palm of her hand.  For an even more adorable look add a large fairy tale book that she can be photographed reading. For a fairytale dress that looks like it is stepped out of a dream, you must see our Kryssi Kouture Parisian Princess Lace and tulle Tutu Skirt.
 Photography by Lisa Kean