Pack Like A Pro for Summer Vacation
Pack Like A Pro for Summer Vacation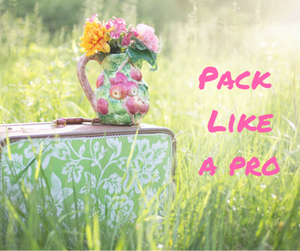 Vacation is finally a time to unwind and relax with your family.  But the months, weeks and days leading up to leaving can be quite stressful.  Trying to figure out all the things you will need and all the things you worry about forgetting can give anyone some anxiety.  There is also the worry about baggage costs and the weight of your luggage if you are flying.  Here are some tips to pack like a pro for your next summer vacation.
Make a list as soon as possible.  Don't just make a list the day before you leave but start it the moment that you book your trip.  I always keep my list on my phone.  There will be times when I'm at the store or at the library where I will suddenly remember something that I just can't forget to bring.  If you keep the list on your phone then you can save it so that at the end of your trip when you are packing to go home, you can go through it to make sure you haven't left anything behind.  I always worry that I will forget my child's favorite blankie and this is one thing I don't want to forget!  I can kiss naps and calming nights rests goodbye.  She loves her My Blanket Adventure Swaddle So Soft Blanket – especially when we are on a great adventure! 


Shop Newborn Blankets and Sleep Sacks for Easy Travel HERE
Roll your clothes.  When you fold your clothes and pack them together, by the time you get to your destination and unpack, you realize that all of your items are all wrinkly!  Then you have to spend more time than you would like ironing all the wrinkles out.  To prevent this from happening roll your clothes when you pack.  Not only does this reduce wrinkling but it also reduces bulk.  You will be amazed at how much more you can fit in your suitcase.

Shop Light Rompers & Outfits for easy packing HERE
Cross Pack Your Family's Luggage.  If you are traveling by air, there is always the worry that the airlines may lose at least one of your luggage.  To give you some peace of mind, cross pack you families luggage so that should that happen, that person with the lost luggage at least has one extra pair of clean clothes.  You can also keep an extra outfit on everyone's carryon. 


Keep entertainment & snacks accessible.  If you are traveling with young kids and the travel time is quite long, make sure that you pack entertainment such as tablets or coloring books as well as snacks in a place that is easily accessible.  This can all be put in on your carry one.  Remember to also put extra clothes for your children in this bag as well just in case there are accidents.  Pack these extra clothes in Ziploc bags.  That way if there is an accident, you can lock up the mess in the Ziploc bag and you don't have to worry about it getting anything else wet or messy.

Shop our summer holiday Collection HERE