Keeping Kids Cool This Summer
Keeping Kids Cool This Summer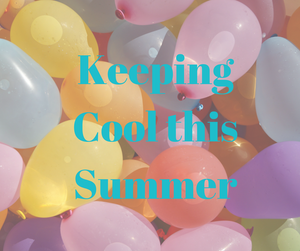 It's a hot one this summer and staying inside to beat the heat is not the best plan.  When they are inside the get completely stir crazy and it'll end up driving you even crazier.  If you don't have a pool and you don't live by the lake, how do you keep your kids cool this summer?  Here are some fun tips to beat the summer heat.
Water Balloon Fight Party.  There is nothing better than a good old fashion water balloon fight.  They are a staple of favorite summer memories.  Load up as many water balloons that you can and hid them in plastic bins all around the backyard.  If you want to really go all out for this water fight party, add in the squirt guns.  Keep large bins of water around the backyard as well to so kids can easily refill their squirt guns.  You will be amazed at how fast kids can go through water balloons.  The water guns help keeps the activity going longer.
Looking for cool summer outfits? Check out our summer collection HERE!


Bike or Outdoor Toy wash.  This may seem more like a chore to you but you will be amazed how much fun kids have with this activity.  Set up a fun "car wash" in the driveway complete with a water hose and soapy buckets of water.  Have your kids put clothes they can get wet in and tell them to give their toys a car wash.  This will not only keep them busy for quite some time but you'll walk away with some pretty clean toys.  Reward them with popsicles after.
Check out our bright and fun summer collection HERE!


Toys and Ice Blocks.  This activity takes a bit of planning the night before.  Take small toys and freeze them in a block of water.  When they are completely frozen, take them outside and have your kids use plastic tools to help chisel out their toys.  They can pretend they are famous archeologists digging and making a historic discovery.
Shop our summer bathing suits HERE!


Yummy Smoothies.  The best thing about summers is creating fun smoothies together.  Not only are they super delicious and they cool you off but they are also great at hiding nutrients that they need.  Try a strawberry banana smoothie and hide some spinach in there.  You can get your kids to eat their vegetables without them even realizing it!  Another great thing to do with smoothies is by putting them into popsicle molds and freezing them.  You won't feel guilty about giving your kids this yummy treat when its hot outside.  Super tasty and healthy too!