Make a Dress-Up Trunk for Your Kids
Make a Dress-Up Trunk for Your Kids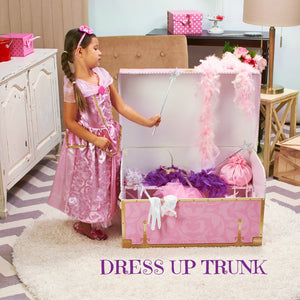 Imagination is so important to a child's development.  It is the gateway to creativity and being able to solve problems with creative thinking.  It's an important skill that really needs to be fostered and encouraged.    It is the door to possibilities, where things that were impossible become possible.  When children are able to use their imagination skills they are using so many developmental skills such as role planning, gross motor skills and recognizing emotions.  A great way to foster imagination is with a dress up truck.  Here is how you can make a dress-up trunk for your kids.
Finding the perfect "dress up trunk."  There are many things you can use to create a dress up trunk.  You can use a plastic bin and cover it up with a fancy fabric using mod podge.  You can also create a dress-up trunk by using an old TV stand and installing a clothing rack.  There are so many great ideas you can find on Pinterest. 
Where to get Costumes.  There are some favorites that I had to purchase when I was filling my child's dress up trunk, such as our Carrie Gorgeous Princess Dress.  She loves anything princess or mermaid. 

Shop Adorable Princess Dresses HERE
But I also wanted to make sure there was more diversity in her costume trunk so that she could be whoever she wanted to be.  I always scope out the clearance racks after Halloween is over.  I also scope out thrift stores as well to build up her collection.
Don't forget the accessories.  Accessories are a must!  The jewelry and hats are such a fun way to complete an outfit.  There are many of my old hats and shoes that I love to hand down to my children that I can add to the dress up trunk.  But I also make sure that it is fitted with a handyman belt and swords for fighting dragons.  You never know when those accessories become necessary.  Our favorite dress-up accessory currently is our Magical and Mystifying Unicorn Horn Headband.

You can find adorable and find accessories like this one HERE!
Easy on and easy off.  When choosing costumes to go in the dress up trunk, I make sure that all items are easy to get on and off.  I specifically chose nothing with lots of buttons as those can be pretty difficult for tiny fingers.  I will have a couple of items that have one or two large buttons or with zippers as this is a great gross motor skill to practice.  I attribute their dress-up play in their ability to put their own winter jackets and snow pants on themselves.  These are important skills to have, especially if they are entering kindergarten this year.   

Go ahead and let her imagination take away while exploring the day!