leather boots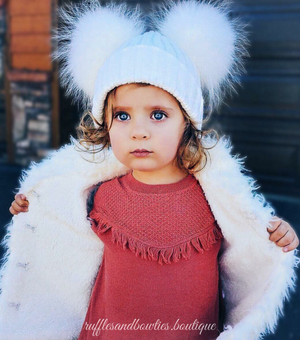 Top Winter Accessories 2018 Trends for Girls
The holidays may be over but winter is looking like it is here to stay.  At least for a while.  It may be cold and chilly but that just means that more accessories and fun layering of clothing is in order.  Are you looking to update your little princess's wardrobe this season?  Here are some must have winter accessories that you can't go without.
Furry ears.  Furry ears are a fun and playful look.  They can go with pretty much anything.  Try adding furry headband ears or even double pom pom hats.  They give your little girl an imaginative, whimsical look.  Choose ones that have neutral shades such as light grays or deep orange fox ears. 
Leather boots.  While fur boots were all the rage last year, this year a more preppy look is on trend.  Achieve this look with leather boots and chunky socks that peak from the top.  Choose shades of brown and gray for a more woodland look.  Duck style boots are also perfect and on trend this season.
A touch of plaid.  Adding some plaid is a great way to keep up this fun preppy trend.  Add a plaid colored scarf or a plaid headband to achieve this look.  A plaid poncho is also a perfect accessory that is on trend for winter 2018.  A cute pair of Mary Jane shoes with plaid socks is also a cute peekaboo plaid look as well.
Fair isle Button Down Sweater.  This type of sweater is perfect for layering.  Not only is it super cozy but it will ensure your little one is warm during this cold months.  Add it to your little one's wardrobe for a casual cozy look.  They are the perfect handmade look that is on trend this winter fashion season.  And best of all, it's a classic sweater that you can pass down to the next younger sibling.
Faux Fur Vests and Coats.  For a more luxury look, adding a faux fur vest and coat is the way to go.  Pink pale pinks, cream whites or light grays when choosing to add this accessory.  Not only are they cozy but they look super stylish too.  Perfect for cuddling up with on a cold winter day.