pink velvet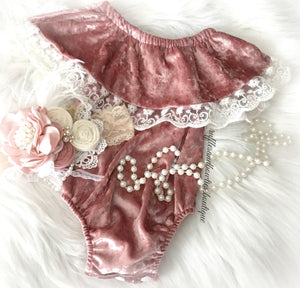 Velvets a Must Have this Winter
If you are looking to update your little one's wardrobe this season, velvet is a staple this year.  There is just so many things that we love about this look.  Not only does it convey a soft and cozy look, it also gives a luxurious one too.  There are so many different ways to incorporate velvet into a key look.  Some insight to the spring 2018 fashion trends is that velvet is here to stay but remember to stick to lighter and softer colors.
Add a bit of velvet into your little one's accessories.  This is a great way to dress up any outfit and make it look posh.   Take a look at our over sized velvet bow headband.  These are perfect for a dressy affair or for a classic and timeless photo shoot.  Velvet is one of those special fabrics that always remains classic.
The great thing about velvet is that it can also rock a boho feel to it as well.  For a more whimsical ensemble, our Crystal Velvet Fringe High Low Dress is a perfect choice.  With its baby doll waist, it really shines in its details on the fringe little dream catcher bottom.  Pair with a set of moccasins and a floral crown to complete the look.
Another gorgeous look in velvet is our Kryssi Kouture Girls Velvet Crush Winter Love High Low Top.  In a deep and rich magenta color this is completely on fashion point this season.  The color and fabric give it a royal feel.  This is one outfit that your fashionista in training is a must have.  Dress it up with black boots and add our big velvet bow headbands.