Winter fashion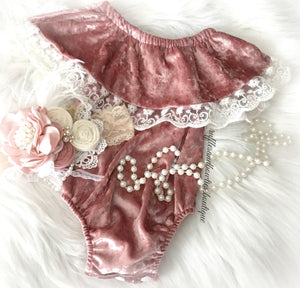 Velvets a Must Have this Winter
If you are looking to update your little one's wardrobe this season, velvet is a staple this year.  There is just so many things that we love about this look.  Not only does it convey a soft and cozy look, it also gives a luxurious one too.  There are so many different ways to incorporate velvet into a key look.  Some insight to the spring 2018 fashion trends is that velvet is here to stay but remember to stick to lighter and softer colors.
Add a bit of velvet into your little one's accessories.  This is a great way to dress up any outfit and make it look posh.   Take a look at our over sized velvet bow headband.  These are perfect for a dressy affair or for a classic and timeless photo shoot.  Velvet is one of those special fabrics that always remains classic.
The great thing about velvet is that it can also rock a boho feel to it as well.  For a more whimsical ensemble, our Crystal Velvet Fringe High Low Dress is a perfect choice.  With its baby doll waist, it really shines in its details on the fringe little dream catcher bottom.  Pair with a set of moccasins and a floral crown to complete the look.
Another gorgeous look in velvet is our Kryssi Kouture Girls Velvet Crush Winter Love High Low Top.  In a deep and rich magenta color this is completely on fashion point this season.  The color and fabric give it a royal feel.  This is one outfit that your fashionista in training is a must have.  Dress it up with black boots and add our big velvet bow headbands.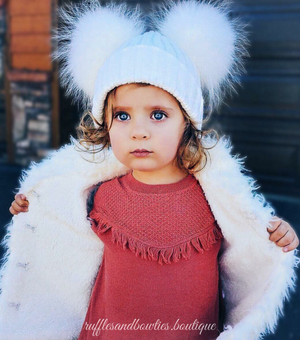 Top Winter Accessories 2018 Trends for Girls
The holidays may be over but winter is looking like it is here to stay.  At least for a while.  It may be cold and chilly but that just means that more accessories and fun layering of clothing is in order.  Are you looking to update your little princess's wardrobe this season?  Here are some must have winter accessories that you can't go without.
Furry ears.  Furry ears are a fun and playful look.  They can go with pretty much anything.  Try adding furry headband ears or even double pom pom hats.  They give your little girl an imaginative, whimsical look.  Choose ones that have neutral shades such as light grays or deep orange fox ears. 
Leather boots.  While fur boots were all the rage last year, this year a more preppy look is on trend.  Achieve this look with leather boots and chunky socks that peak from the top.  Choose shades of brown and gray for a more woodland look.  Duck style boots are also perfect and on trend this season.
A touch of plaid.  Adding some plaid is a great way to keep up this fun preppy trend.  Add a plaid colored scarf or a plaid headband to achieve this look.  A plaid poncho is also a perfect accessory that is on trend for winter 2018.  A cute pair of Mary Jane shoes with plaid socks is also a cute peekaboo plaid look as well.
Fair isle Button Down Sweater.  This type of sweater is perfect for layering.  Not only is it super cozy but it will ensure your little one is warm during this cold months.  Add it to your little one's wardrobe for a casual cozy look.  They are the perfect handmade look that is on trend this winter fashion season.  And best of all, it's a classic sweater that you can pass down to the next younger sibling.
Faux Fur Vests and Coats.  For a more luxury look, adding a faux fur vest and coat is the way to go.  Pink pale pinks, cream whites or light grays when choosing to add this accessory.  Not only are they cozy but they look super stylish too.  Perfect for cuddling up with on a cold winter day.