Planning a 1st Birthday Party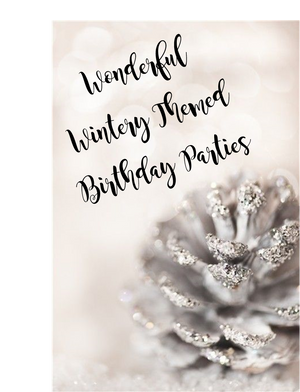 Wonderful Wintery Themed Birthday Parties
You may think all the fun themes for
birthday
parties have more of a summer appeal but you would be very wrong. There are some pretty "cool" themes you can do if your little one has a birthday in the winter. And they may even be more fun! If your stuck on a unique theme for your little one's birthday, here are some wonderful wintery theme ideas for you:
 Unicorn Hot Cocoa Party. Have you ever seen a unicorn hot cocoa? Not only are they super pretty but they taste pretty good as well. This is a fun way to incorporate a warm hot drink in a unique party themed way. Decorate your party with pastel colored snowflakes and glitter. Check out our Magical and Mystifying Unicorn Floral headband. A perfect accessory for your birthday girl's party.  
Buffalo Print Woodland Animal Party. Buffalo print is all the rage these days.  It is a cozy print for this winter season and a great way to add some pop of color to your little one's birthday party.  Use animals such as foxes, bears, bunnies and racoons for this special theme.  Also, incorporate some faux fur elements to your party.  This can be little stuffed animals in the goodie bags or furry ears to pass out to your party guests.  Add a buffalo print table covers with wood stump centerpieces.
Penguin Party. Looking for an adorably cute theme?  Penguins are the way to go!  Penguins is such a fun party theme because penguins convey fun and playful.  You can incorporate elements of black, white and pale blue colors.  Serve white powder donuts as tiny snowballs.  Wrap multiple shoeboxes in white paper and stack them together like ice igloos. Decorate with snowflakes and white balloons.  Don't forget to check out our adorable knit wit wool penguin slipper boots
Indoor Campout. While it may be too cold to camp outdoors, incorporating it as a birthday theme as an indoor campout is the next best thing.  Set up tepees around the room that all have pillows, blankets and anything else in them to make it cozy.  Show a fun kids movie and don't forget to serve s'mores.  Add twinkling white Christmas lights from the ceiling to add more of a night time star gazing sky look.
 Winter Glitz and Glam. For the girl who loves things fancy, a winter glitz and glam theme is a perfect choice.  Glitter will be a staple at this party theme.  Dress up the event area with tons of white and blue Christmas lights and make sure that every element is dressed in blue and white glitter.  Check out our sliver glitter sparkle shoes.  These are the perfect shoes to wear for her big day.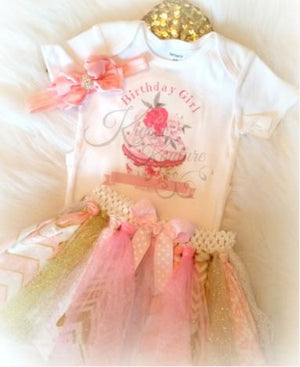 I'm Just here for the Cake - Best Cupcake Birthday!
Best Cupcake Birthday Party Ever
Everyone loves cupcakes.  Not only are they absolutely delicious and the flavor ideas are endless, they are absolutely adorable too.  So what a better birthday party theme for your little one than a cupcake birthday party?!  Here are some awesome cupcake birthday party ideas:
Decorate a cupcake activity.  This is an awesome and fun activity to do at a birthday party.  Have some blank cupcakes and kids will enjoy icing them and choosing the toppings to put on them.  Hand out little boxes to boxed them up to take them home in.
Kid's aprons.  A great party favor is having aprons for each kid to not only wear while working on their cupcake masterpieces but also to take home too!
Pin the Cherry on the Cupcake.  Just like pin the tail on the donkey, this fun game will be enjoyed by all your tiny guests.  Print up a large cupcake and everyone can take turns trying to pin a red balloon to the top of the cupcake.
Cupcake décor.  Some fun and unique cupcake décor for your cupcake birthday is using different colorful cupcake liners and stringing them together to make garland.  You can also use cupcake silhouettes as the background to your birthday invitations.
There are just so many cupcake birthday ideas you can use, and don't forget to dress your little cupcake up in an adorable cupcake outfit!!!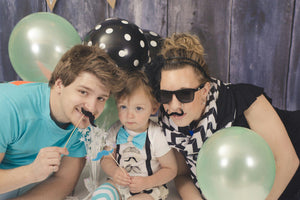 Tips for Celebrating Your Little Ones First Birthday
Tips for Celebrating Your Little Ones FIRST BIRTHDAY


You can hardly believe it has been nearly a year since your precious little one has turned your world upside down. While there were many sleepless nights and moments where you may have been asking yourself if you are way in over your head with this parenting gig, you have made it! There is now a bit of light at the end of that tunnel. So enjoy this momentous occasion of making it a year in parenthood.

Here are some tips to celebrate your LITTLE ONE'S FIRST BIRTHDAY


1. TIMING IS EVERYTHING. While you may want to plan your party for the evening, that may not be your baby's best and playful time. Don't feel guilty about hosting your party in the late morning or after a naptime late afternoon. Work around the time you think your baby will be in their best mood.

2. HOST THE PARTY AT HOME. Having the party in your home is great for baby because it is a place that they are most familiar and comfortable with. Plus, if they get overwhelmed and need to be put down for a nap, their sanctuary is just down the hall.

3. KEEP THE GUEST LIST SMALL. You may want to invite everyone you know to join in on celebrating this momentous occasion but you may want to think about having a smaller party. Too many strangers can be very overwhelming for a little one.

4. ENLIST A PHOTOGRAPHER. Have someone you trust be in charge of taking photographs for this party. By now you may have tons of pictures of your precious child but chances are you as the parent are probably only in a few. This is a perfect photo opportunity to make sure that you finally get in the picture!

5. PICK A THEME. Whether it is colors like pink and gold or a mermaid theme, the ideas are endless. Having a theme helps make your party more concise and put together. It will help with planning what decorations and what your baby's first birthday cake will look like.
Check out our Birthday Selections for your little one!!!